Check In, Impact your friends
The following is an excerpt from a post by a new church marketing firm called REACH that is helping churches grow through social media methods.  They have found Facebook Check-In's to be their #1 tool for referring friends to your church.  See why in the post and watch the video how you can check in at your Open Life campus this Sunday!  Help Open Life rise to the top of searches for Churches in Sumner, Churches in Bonney Lake, Sumner Churches, and Bonney Lake Churches with simple social media check in's.
Imagine that you were trying to create the ultimate social media post to promote your church. What kind of information would you include? Location? Ratings? Friends who have been there? Photos of your community? 
It turns out that this is exactly how Facebook check-ins work, and they're literally the most valuable form of exposure a church community could hope for. Why do we say that?
Facebook Check-Ins Provide a Ton of Valuable Information About Your Location
To start, Facebook Check-Ins provide all the information a potential first-time visitor would require – your location, ratings, and a link to your Facebook page for more details. If a check-in is viewed on mobile, clicking the map will even bring up driving directions.
More importantly, Facebook Check-Ins serve as a personal referral from one friend to another. The single most effective way to get a new member through the door is a personal ask.  By checking-in, a Facebook user is making a point of telling her friends where she is. And people don't take the time to share a place they've visited unless they think their friends are interested. That's a far more valuable recommendation than any form of advertising could provide, simply because it's coming from your community rather than directly from you.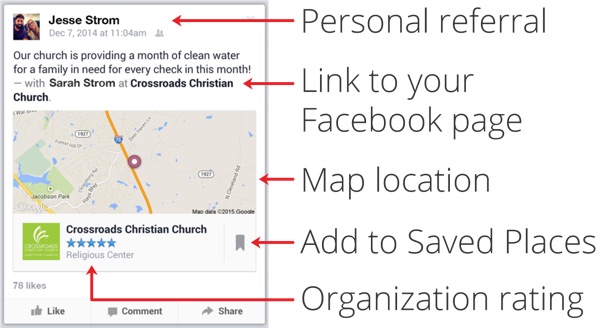 Facebook Check-Ins Provide a Rich Experience That Highlights Friends Who Have Been There
The check-in experience doesn't end after the initial post; Facebook also highlights photos of friends who've been there, reviews they've made, other relevant locations nearby, and even photos from your Facebook page.
All of this follow up information serves to illustrate the experience of being there and reinforces the social connections one has with that place. So even the most skeptical person will know, at the very least, that they have friends at your church.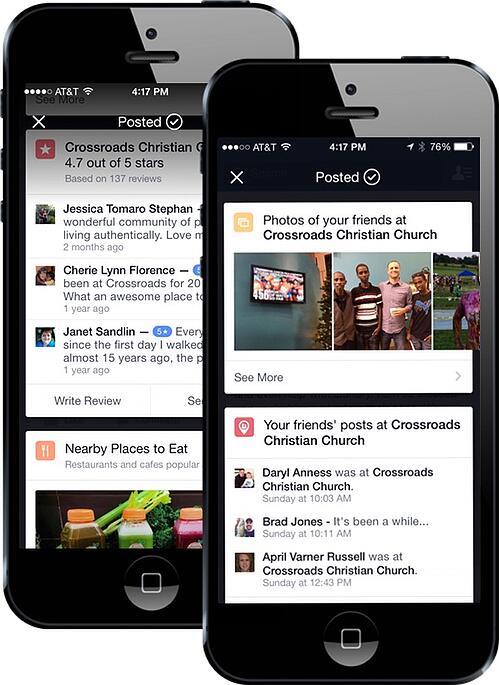 Facebook Check-Ins Are Typically Seen By At Least 150 Friends, If Not Many More
This is arguably the most valuable thing about Facebook check-ins – they are typically seen by at least 150 friends of the person checking in! Often times it's much more; we've seen as many as 600 impressions from a single Facebook check-in. 
This means that when someone checks-in at your location, they're telling hundreds of their friends where they are and recommending your church in the process – taking "inviting" friends to church to a whole new level! It's because of this fact that Facebook check-ins are easily the most powerful way a to encourage word of mouth growth.